As the end of October is approaching, one can observe as Halloween related articles are being displayed in stores and supermarkets.
Halloween is a festival of ghosts which is observed on 31st October. This festival does not originate from the Polish tradition, but it is mainly celebrated in USA and other Anglo-Saxon countries. Its most recognizable symbol is a curved pumpkin in the shape of a scary face which is lit from inside by a candle – a jack-o'-lantern.
There are many customs connected with celebration of Halloween, the most popular of which is a kids' play called "trick or treat", in which children in scary costumes travel from house to house in the neighborhood asking for a sweet with a phrase "trick or treat", and play tricks on homeowners if no "treat" is given to them.
Despite many controversies, from year to year Halloween is gaining some popularity and currently is also celebrated in a number of non-Anglo-Saxon countries, where this tradition has not existed before, also in Poland from about 1990s, however on a smaller scale.
A festival of commercialism?
 In USA, Halloween is one of the most commercialized celebrations, obviously right after Christmas. It is estimated that the spendings of Americans during the Halloween period range annually from 6 to 9 billion US dollars. According to the estimates, only in 2019 the total of 8.8 billion US dollars was spent on the US market on sweets, costumes, parties, or even pet costumes and other Halloween themes.
Considering great profits which are made every year through the Halloween period by manufacturers and sellers of a wide range of Halloween dedicated articles, there is no wonder that they are taking an effort to protect the exclusive rights to their articles by means of tools which are guaranteed under the provisions of intellectual property law.
How to protect one's products intended for Halloween?
The most wanted Halloween products are frequently endangered by the activities of third parties desiring to take advantage of their popularity through copying them to a greater or lesser degree. It is essential to take it into account, as such dishonest practices are unfortunately quite common.
The entrepreneurs creating unique Halloween products, who are aware of these dangers, willingly resort to applying for protection which may be guaranteed by intellectual property rights, including in particular the rights for an industrial design, but also the rights for a patent or trademark.
The protection obtained as a result of registration of an industrial design, or a patent or trademark, guarantees its holder the exclusiveness to use the solution contained therein for commercial or professional purposes. Basing on this exclusive right, its holder may effectively prohibit the manufacture, use, offering, entering into trade or import, without his consent, of the products falling within the scope of protection resulting from the obtained exclusiveness.
What are these exclusive rights?
Just to remind a legal definition, an industrial design is a form of a product, which is new and has an individual character given to it especially by the characteristics of lines, contours, shapes, colors, product structure or material and by its ornamentation. In practice, the grant of protection may be claimed for any object having a particular look defined by the aforesaid features.
As regards the articles connected with celebrating Halloween, the most essential role is played by their very look. Consequently, in the most natural way it is an industrial design, which can guarantee them the broadest protection, and therefore it is chosen most frequently by the owners for this kind of articles.
As far as patents are concerned, they are granted for inventions. An invention shall be any new, technical solution of a problem, which is suitable for industrial use and which has the necessary level of inventiveness, meaning that for an expert in the given field the solution does not obviously result from the current state of the art. This means that a patent for a solution destined for Halloween products can only be obtained, if it constitutes a technical solution of a problem. For that reason, this form of protection of Halloween products is not applied for so frequently.
Meanwhile, a trademark may be almost any designation, which is capable of distinguishing in trade the goods or services of one undertaking from the goods or services of the same kind of other undertakings.
Halloween industrial designs
In the official databases of registered industrial designs one can find many examples of exclusive rights for Halloween articles. Obviously, they can be predominantly found in the US databases, however there is also a substantial number of industrial design registrations for Halloween articles in the territory of Europe, for example:
Food packaging

RCD no. 001780628-0006

Food packaging

RCD no. 003417856-0002

Packaging

RCD no. 004705614-0032

Chocolate/ candy

RCD no. 000625397-0002

Masks

RCDs nos. 002676171-0001, 007180310-0001

Lanterns

RCDs nos. 002430645-0001, 002430645-0002

Plush toys

RCDs nos. 003931302-0013, 003931302-0014, 004536191-0006

Cake forms

RCDs nos. 001781386-0001, 001781386-0005

Decorations, stickers

RCDs nos. 008150593-0003, 008199764-0003, 008150593-0001, 008152938-0003, 008199764-0004
A Patent on Halloween
Also among patents, although predominantly in USA, one can find a number of solutions concerning Halloween articles, for example: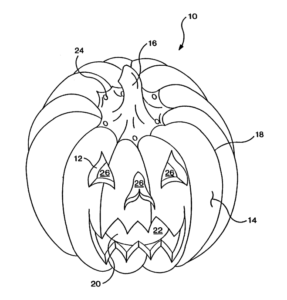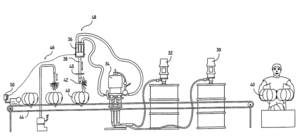 Patent no. US 5,811,160 – Carved artificial pumpkin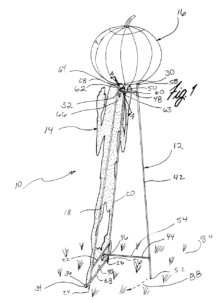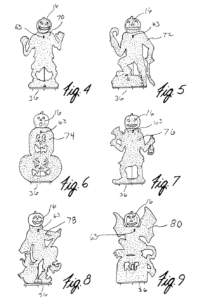 Patent no. US 6,546,654 – Display stand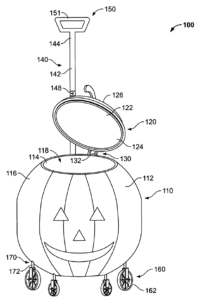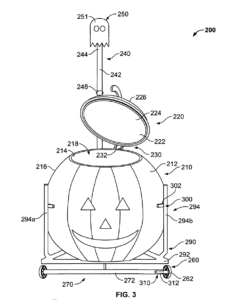 Patent no. US 7,594,669 – movable Halloween carrier
Halloween Trademarks
Although trademarks are a rare form of protection for Halloween articles, one can also find among them a number of interesting examples of designations connected with or relating to Halloween, e.g.
EUTM no. 017951192

Sale of masquerade costumes, games and toys.

International registration IR.776773

Sweets; toys.

International registration IR.1202912

Halloween greeting cards;
As it can be realized once again from the above considerations, various forms of intellectual property are surrounding us and they concern many aspects of our everyday life. When it comes to any celebrations with a commercial nature, such as Halloween, in which a key role is played by smart, tricky, attractive and at the same time innovative gadgets, protection of intellectual property is a helpful tool that comes in handy.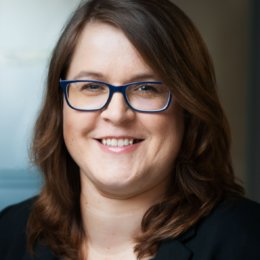 Joanna Piłka is a patent attorney in the department of trademarks and industrial designs. She deals with issues related to the protection of trademarks, industrial designs and internet domains. Also develops a strategy and provides advice on brand protection and industrial designs, prepares legal opinions. She is a member of INTA and ECTA (member of the Design Committee of ECTA). Contact with the author